Decreased intra- and inter-network connectivity in a patient with ADHD and learning disabilities prior to treatment The specific causes of ADHD can be difficult to establish, but this disorder typically results from a confluence of multiple factors. There is strong evidence that your likelihood of developing ADHD is tied to genetics, with the disorder often tending to run in families. Abnormalities in brain development early in life can also contribute to the emergence of ADHD, with environmental factors such as chemical exposure thought to play a role in some cases.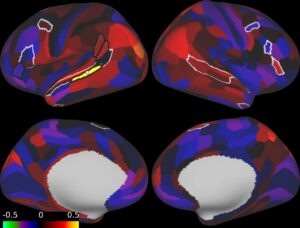 Normal intra and inter-network connectivity in healthy volunteers matching age/sex ADHD can manifest in different ways from person to person, with a range of symptoms and severity, as well as having variations in symptoms which are likely to appear depending on whether the disorder is diagnosed during childhood or adulthood. Some of the most common symptoms include restlessness, anxiety, or being easily distracted. You may have a particularly hard time planning, multitasking, or following through on projects or tasks. Forgetfulness is common in people with ADHD, as well as a tendency to procrastinate or make impulsive decisions. Over time, some of these symptoms can have a serious impact on your personal life.
People with ADHD are more likely to experience ongoing struggles with employment and finances. Not being able to focus or follow through on work obligations or social engagements can breed increased stress and feelings of inadequacy, self-doubt, and depression. Mood swings and trouble controlling one's temper may also be associated with the disorder. ADHD has also been linked to a higher likelihood of dealing with substance abuse issues.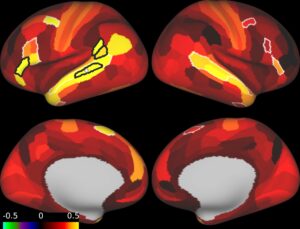 Aberrant connectivity in a patient with ADHD and learning disabilities prior to treatment ADHD most commonly rears its head during childhood development, often becoming evident due to academic difficulties resulting from having a hard time focusing on schoolwork but can also continue to have an impact into adulthood. When you or your child come in for a first appointment with Neurotherapeutix, the first step is a consultation with a licensed psychiatrist who will review relevant symptoms and medical history, including relevant family history and environmental factors which may contribute to ADHD. Our practice is unique in our ability to use MRI technology to map the functional connections of the brain to identify any ways in which they are behaving abnormally. Research has identified specific areas of the brain in which neurons may be overactive or underactive, causing the symptoms most associated with ADHD. This innovative fMRI technology allows us to arrive at a more specific diagnosis of the root neurological issue and craft a targeted, personalized treatment plan.
Normal connectivity in healthy volunteers matching age/sex Treatment for ADHD will depend on the age of the person with the disorder, among other factors. Medications including stimulants may be prescribed and have been shown to reduce ADHD symptoms in majority of cases. However, these medications may have side effects and create a chemical dependency over time, and are not always the preferred treatment method, especially in younger children. Non-pharmaceutical approaches to ADHD include behavioral therapy and relatively simple lifestyle techniques such as establishing a healthy routine and sticking to a daily schedule. As is the case with many mental disorders, lifestyle factors are also important, and making an active effort to get enough exercise and sleep and eat a healthy diet can help to reduce the severity of ADHD.
At Neurotherapeutix, we use an innovative, personalized approach to transcranial magnetic stimulation (TMS) which has proven effective in treating the root neurological causes of ADHD in both children and adults. During your initial appointment, we use functional MRI technology to map the brain and identify the abnormal neuronal activities – neurons which are either under- or over-firing – which are most associated with ADHD. Once we have established the unusual brain activity which is causing the disorder, we then create a personalized, targeted TMS approach. Repetitive sessions of TMS using functional MRI technology have been shown in the past to help improve focus and reduce ADHD symptoms including stress, forgetfulness, and impulsive decision-making. In both children and adults, our unique guided TMS methodology provides results without the side effects that are often associated with ADHD medications.