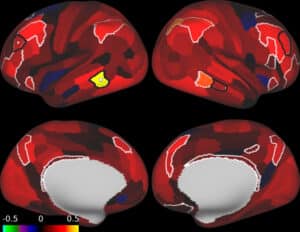 The most distinct aspect of our technology is that it is based on these principles:
1. Every brain is different.
2. Treatment targets are found from the images of the patient's brain.
3. Treatment is delivered with laser precision to the malfunctioning site.
While all brains have the same underlying structure, each one has its own unique pathways and circuitry. Because of that, it stands to reason that "standard TMS" can't set that magnetic coil in exactly the same spot on every individual and expect consistent results. Hence our fMRI guided TMS approach. That makes sense, right?
So, if you can't do it the same way for everyone and see optimal results, how can you use the magnetic coil in a way that works better for more people? That's the beauty of our special system.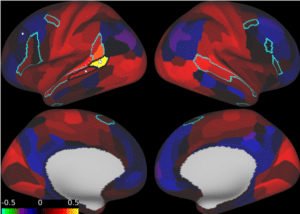 How fMRI Changes the
Game in rTMS Treatment
First, let's talk about functional magnetic resonance imaging (fMRI). You may know that Magnetic Resonance Imaging (MRI) is a method of forming pictures of the organs in your body using magnetic fields, their gradients, and radiofrequency (RF) waves.
CT scans and x-rays use the ionizing radiation of x-rays, which can be damaging. But MRI uses magnetic fields and radio waves. It's especially useful for visualizing soft tissue like blood vessels, cancer, spinal discs, etc. SPECT imaging, in addition to using radiation, has a low temporal resolution. Which means it takes pictures very slowly, this limits its usefulness for TMS.
Whereas MRI specializes in displaying structures, fMRI specializes in showing function. And the way the fMRI does it is by showing blood flow. And here's why:
When a quarterback runs across the field to the goal for a touchdown, he's really working his leg muscles, right? And when he does, the part of his brain responsible to deliver blood to his legs gets activated before blood flow to his leg muscles can ramp way up to feed those muscles, and empower them to do the job they need to do.
In other words, when something is functioning, the blood flow to the part of the brain that is in control of the area increases. The more it functions the greater the blood flow. Make sense?
MRI is sensitive to blood flow and volume. If blood flow to a specific brain region increases, the MRI signal from those regions increases.
So, by identifying areas of increased/decreased blood flow, the fMRI highlights the locations of these functioning areas and the way they are connected to the rest of the brain.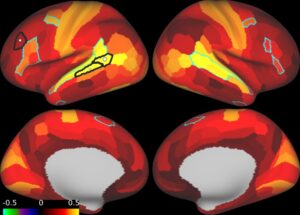 Now, let's take it a step further
Some of those functioning areas are good (work at the right rate), like the quarterback's leg muscles. But some are slow or fast (hence out of tune with the rest of the network). So sometimes it's important to find areas that are functioning in the wrong way so we can change and improve them. In a word, FIX them.