Depression is a complex disorder and it is often difficult to pinpoint any individual cause. Biological abnormalities may contribute and family history also has an impact, meaning you are more likely to have depression if a close family member has experienced the disorder. Hormonal changes may also lead to a chemical imbalance which causes clinical depression.
No one is happy all the time, but the symptoms of major depressive disorder go beyond just feeling down or having a case of the blues. Depression can manifest in a number of ways, but is often characterized by feeling sad, hopeless, irritable, or unusually quick to anger. People with depression may also feel bored or disengaged with interests or activities that they typically enjoy. Clinical depression can cause brain fog, forgetfulness, and sluggish thinking, making it difficult to focus on simple daily tasks. In addition to causing a general malaise or lack of energy, this disorder can cause insomnia and interruptions to a healthy sleep schedule. The impact of major depressive disorder on diet can vary, ranging from loss of appetite to cravings for unhealthy foods and consequent weight gain. People with severe depression may also experience recurring dark thoughts and even suicidal ideation.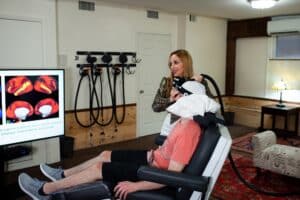 All candidates for guided TMS treatment at Neurotherapeutix are first evaluated by a board-certified psychiatrist who will review symptoms and medical history, including any past treatments which have been undergone for depression. Major depressive disorder is characterized by misfiring neuronal circuits or faulty connectivity in the networks of the brain. Using unique, cutting-edge functional MRI (fMRI) technology, our doctors are able to identify these connectivity disruptions and qualitatively diagnose the severity of depression.
For people suffering from clinical depression, treatment options may include a range of modalities including talk therapy and lifestyle changes such as dietary modifications. For many people, medications such as selective serotonin reuptake inhibitors (SSRIs) may prove effective at alleviating depression symptoms. However, many people may have depression which is resistant to treatment or may experience side effects from medication that can be uncomfortable, inconvenient, or even debilitating.