Currently, there are post-op therapies such as physical, occupational, and cognitive rehabilitation that have been shown to be long and tedious with suboptimal results. Post-op neuromodulatory treatments are presently lacking and are areas of intense need.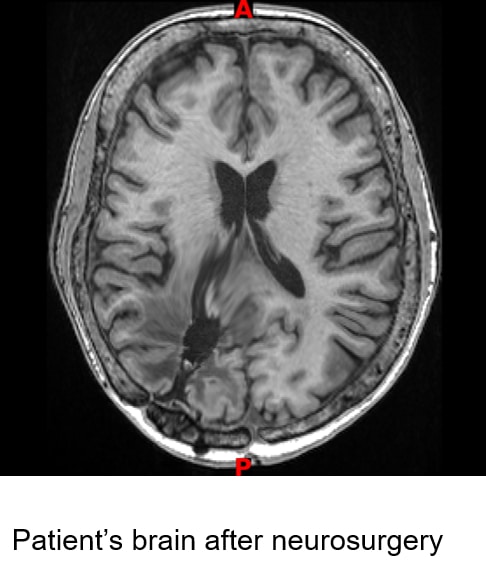 It is also important to know that neurosurgery uses optically tracked stereotactic navigation systems in combination with co-registered MRI images to guide surgery.  They also use the same technology in combination with TMS to detect functioning sites before surgery, to avoid resection of functional tissue.  Presently, neurosurgery uses fMRI-guided-TMS for finding salvageable sites by stimulating them, using reconstruction of 3D MRI images of the patient's brain.  Such navigated transcranial magnetic stimulation (TMS) has been so powerful that they are now widely used in guiding surgery for patients with brain tumors and other neurosurgical procedures. Surgeries that use neuronavigation-guided TMS before surgery, as a preoperative planning tool, have reported a much better outcomes and higher survival rates in brain tumor patients [Kreig, Raffa].
Neurotherapeutix has used fMRI-guided-TMS for neurorehabilitation in patients after neurosurgery with great success. This complex capability has shown to accelerate regaining function on affected brain regions post-surgery [Einstein]. We have seen improvements in paresis, language, attention, memory, and somatosensory processing. We have also seen improvements in motor recovery and depression.
In summary, at Neurotherapeutix, we offer fMRI-guided TMS for post-op patients, which is a unique and noninvasive technique with ability to rectify pathologic remnants of neurosurgery and to increase the rate of recovery after neurosurgery.